We believe that good science teaching should be:
based on a secure knowledge of the subject
engaging and creative
a mixture of practical and written work
have a strong real-life context
inspired by the questions that children have
be challenging
These principles of good science teaching were devised by the staff and were informed by the children of St John's school, with help from the School Council.
PSQM Gilt Award
We are delighted that St John's has been awarded the Primary Science Quality Mark (PSQM) Gilt. This is the next level to the award we previously held and it recognises our continued commitment to excellence in science teaching and learning. The assessor noted that the profile and quality of science at St John's was of a high standard and that "children are engaging with great science both in and outside the classroom, developing positive attitudes towards science as well as securing scientific understanding and skills. Teachers, children, parents and governors should be very proud." A big thank you to all staff for the continued dedication and enthusiasm. We endeavour to build on this success and look forward to collaborating with all families and the wider community on all things science in the future. Click here to see our virtual award 'ceremony'.
Summer 2020
Despite some very challenging times for everyone in recent months, science thinking has not stopped! It has been absolutely brilliant to see so many of you continuing  science thinking at home, getting your families involved and making new discoveries and most importantly asking questions and wondering about the world around you. Thank you for sharing your photos. Some have been topics you have learnt with us and some your own scientific thinking – all fantastic. The children that have been in school have also been following the home learning science and we have captured some of their work too.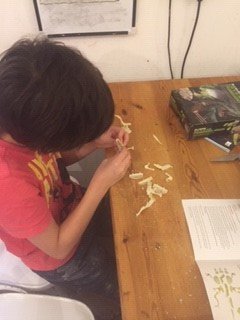 Excavating dinosaur bones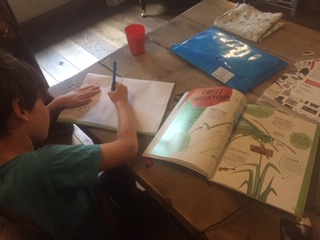 Learning more and more about what lives in our gardens and how to care for our world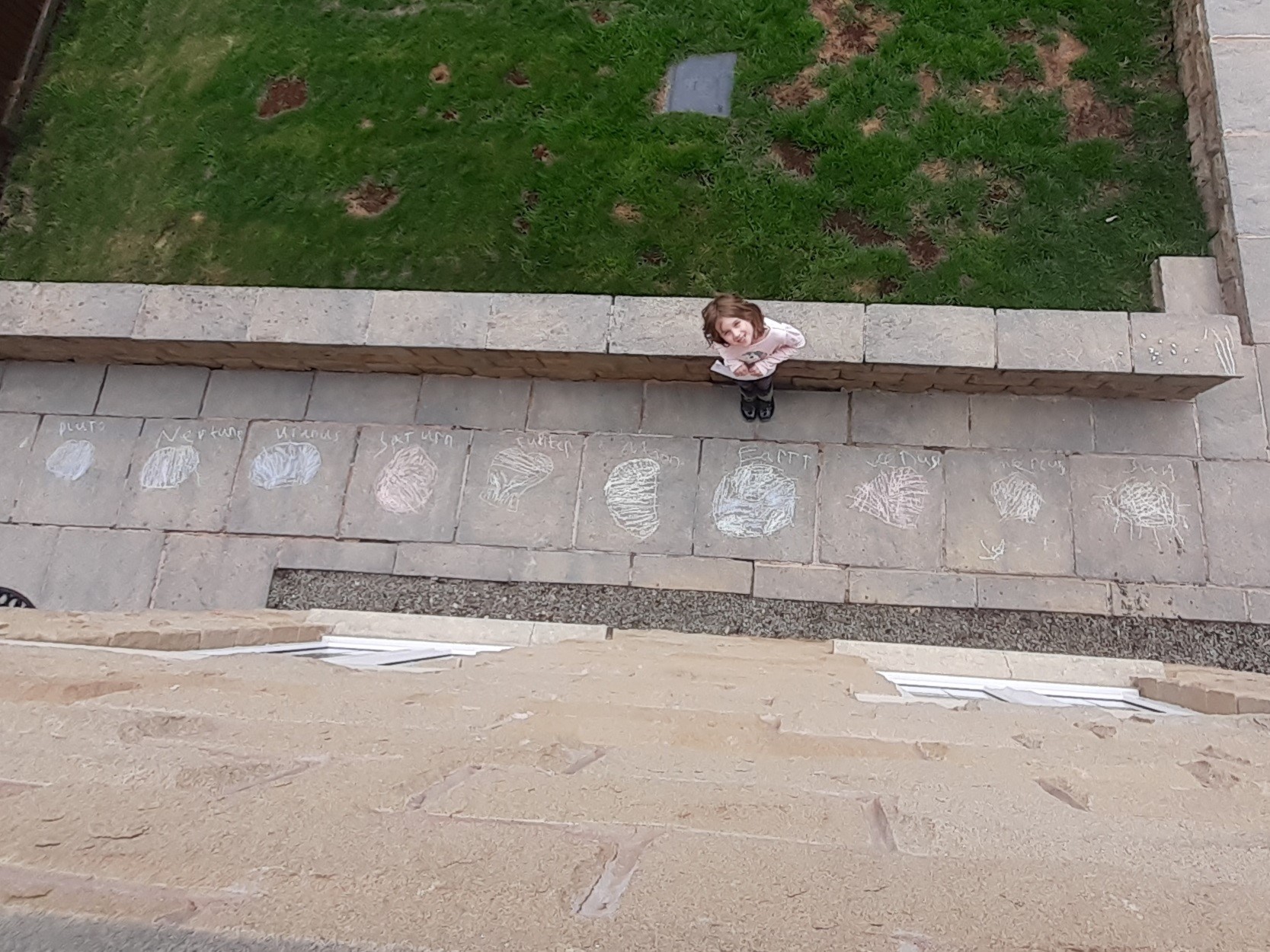 Drawing the planets in order and naming them.
Classifying leaves using maths knowledge too!
Using knowledge of the parts of a flower to create a picture
Testing a theory that the height of a tree can be measured by looking through your legs! Lots of estimating, maths, questioning and team work.
Science Week 2019
Year 5 have been thinking about how science has helped us to look after these special animals which are so important to our local community that they are actually a part of our school badge.
Class 4 have been investigating how air pollution can be dangerous, especially near busy roads. Air pollution is made up of all the dangerous particles (bits) that shouldn't be there.
We tested water from near a bust road and also from a country park.
We added a special chemical to check for pollution and we discovered that the water near the road was much more polluted that the water from the park.
The dark liquid indicates that there are impurities in the water.
Science Week in Year 5
Year 5 have been looking at the science in our class book Kensuke's Kingdom. We were investigating how we could extract pure water from dirty sea water. Look how clean one group got their water!
Science in Class 4 
After discussing the half-term homework about changes of state, we learnt about how particles are arranged in solids, liquids and gases.
We used the hall space to demonstrate the arrangement with our bodies.
Here are some of the investigations which Class 4 members carried out at home:
Science Visit to Rishworth
We were invited to Rishworth School to take part in a science lesson using their fantastic resources.
Here are few of the comments about the morning:
"Science is amazing!"
"I wish we could do science all day."
Science Week | (March 2018)
This week we have based all of our learning around science and the way that it affects our lives. We have enjoyed visits from:
people who work in scientific jobs
former pupils who are studying science
science staff and former pupils from Ryburn school
people who have hobbies based around science
We also had a really egg-citing, whole-school science club.
Here are just a selection of the activities which we took part in this week:
Our first science week was a great! We really saw how important science is in our everyday lives.
We can't wait for the next one.
Science Club | The Periodic Table (February 2018)
Today, we have had fun playing and learning using the Toca Elements iPad application. We have been using technology more and more at St John's to help us with our science learning.
The children in science club enjoyed subjecting the different elements to different processes.
If you would like to have a go for yourself, why not ask your parents/carers for permission to download the app?
apple
https://itunes.apple.com/us/app/toca-lab-elements/id748057890?mt=8
android
https://play.google.com/store/apps/details?id=com.tocaboca.tocalab&hl=en_GB
VOCABULARY: (noun) A substance than cannot be chemically changed to a simpler form.
Science Club | Forces (February 2018)
We have tried to make a bubble inside a bubble and non-spherical bubbles. We found out that a non-spherical bubble was impossible to make because of the pressure of the gas pushing against the bubble wall.
I wonder if any of our science club can make 3 bubbles within bubbles before next week.
Great science today everyone!
Science Club | Static Electricity (January 2018)
This term we have been using electricity in science club. We sorted out ALL of the electrical resources so that we can use them more efficiently in our club. We created circuits with working bulbs and buzzers. This week we have used static electricity to investigate the best way to collect Rice Crispies with a balloon.
We found that the best number of rubs was 4 and that the chair was the best at creating static electricity on the balloon.
We presented our findings to the rest of the group.